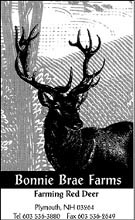 Bonnie Brae Farms
601 Daniel Webster Highway
Plymouth, NH 03264-4314
Phone (603) 536-3880
Fax (603) 536-2649
Sign the Bonnie Brae Guestbook!
You are the 902642nd person to visit since Feb. 8, 1998
Bonnie Brae Farms was featured on Food Finds on The Food Network!
---
NEW! Online directions to Bonnie Brae Farms.
---
Working with Bonnie Brae Farms - What Do We Offer?

Learn more about what we offer
- or -
Go directly to our order form
- or -
Have information mailed to you
---
Bonnie Brae - Beginnings:
Deer farming has been around a long time. Ever since the Mesolithic era (40,000 to 10,000 BC), man has farmed deer for venison. It is a relatively new industry in North America, however, with its modern roots set in the 1980's.
Bonnie Brae Farms began as a quest for a farming endeavor that would bring over 200 acres of old farmland, which had been family property for three generations, back to life. The intent was to make the property productive, while at the same time keeping it open. In late 1992, Henry and Bruce Ahern starting investigating options, including aquaculture, ostriches, and llamas.
Ultimately, the search led to the New Hampshire Farm and Forest Expo in February of 1993 and a scheduled seminar on fish farming. However, the two brothers discovered a seminar on deer farming to be held that morning. That piqued their curiosity. They attended it, and came back with a whole new train of thought. Although aquaculture was not out of the picture at this point, deer farming soon became the focal point of their activities.
They visited both fallow and red deer farms in Maine, New Hampshire, and Vermont. They spent four days on a Red Deer farm, feeding, working, and enjoying the deer. After running numerous calculations, doing extensive reading, checking regulations, and attending other deer farm related meetings, they made their decision - Red Deer.
Autumn of 1993 was spent ordering and putting in poles and fence. Deer were selected and ordered in December, and the first twenty-seven animals arrived on February 17, 1994. Bonnie Brae Farms was a reality!
Located in Plymouth, NH - the gateway to both the White Mountains and the Lakes Region - Bonnie Brae Farms enjoys the exposure of busy Route 3 just off Interstate 93, and the quiet of a rural neighborhood. As the third deer farm in the state of New Hampshire, Bonnie Brae Farms has been able to utilize its location to generate interest in deer farming and to educate the general public regarding raising deer and the health benefits of venison.
---
Members of:
| | | |
| --- | --- | --- |
| | North American Deer Farmers Association (NADeFA) | |
| | Northeast Deer and Elk Farmers (formerly NNEDFA) | |
| | NH Farm Bureau (National Farm Bureau page) | |
| | NFIB | |
| | NH Game Farmers Association | |
| | |
| --- | --- |
| denotes link | denotes mail address |
---